Encompassing favourite preparations like nigiri, maki, sashimi, chirashi, gunkan and an ever-expanding variety of other hugely popular specialities, sushi is unquestionably a global food phenomenon. The unrelenting culinary trend has taken the world by storm and continues to keep seafood in vogue in consumer markets everywhere.
It's common knowledge that Japan has a rich sushi heritage, and that seafood has always been an integral part of the nation's diet. Consequently, while the name "sushi" actually means "seasoned rice" and can therefore be served up with a variety of vegetable or meat-based ingredients, it's the ubiquitous raw fish offerings that catapulted the concept into the global mainstream.
Alongside the easily identified species like tuna, salmon, shrimp and mackerel, sushi utilises many other raw fish. Yellowtail, flounder and squid (or hamachi, hirami and ika as they are often listed on menus) frequently feature with shellfish like scallops (hotate), surf clams (hokkigai), octopus (tako) and sea urchins (uni). In doing so, it's led to the broadening of many people's seafood palates and has also generated more consumer interest in fish generally.
Pathway for salmon
As well as being a tasty, healthy and convenient food, many regions have also added their own identity – or twists – to sushi along the way, coming up with dishes that offer greater familiarity and access to their respective audiences. Perhaps most successfully achieved by the hugely popular California roll with its combination of cooked crab, cucumber, avocado and mayonnaise, this has largely been achieved by incorporating some already popular ingredients and domestic species. In this regard, the only limitation is that sushi preparation tends to require fish with firmer, easier to cut flesh.
When it comes to the use of unauthentic species – those not traditionally used in Japan – farmed Atlantic salmon is in a league of its own. Sushi has been a very important contributor to the success of this fish and vice-versa. Today, salmon is one of the three most popular seafood options in the Western world, and consumption is growing fast in many other territories. Even back in Japan, where salmon wouldn't have featured on sushi menus some 20 or 30 years ago, it's now the most popular topping.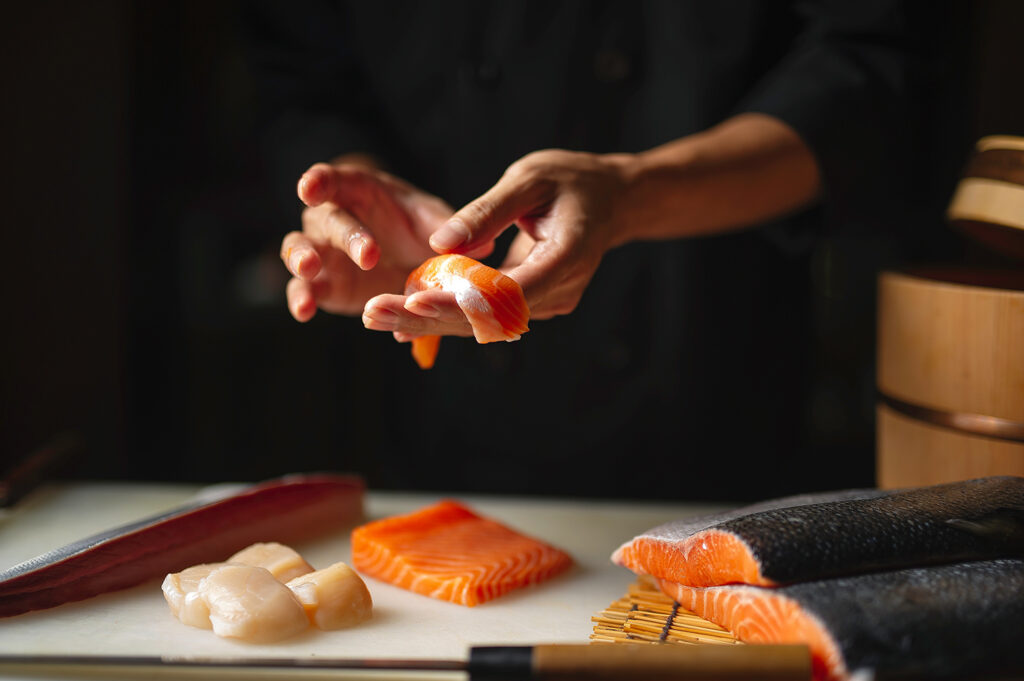 Millenia in the making
While sushi is very much a part of Japan's cultural identity, and the country is largely responsible for its overseas success, it's believed that the cuisine's origins date back at least 2,000 years and not in the land of the rising sun. There's a lot of evidence that points to an evolution that spanned a number of Southeast Asian countries and various fermented rice dishes before arriving in its spiritual home.
Nevertheless, thanks to the Japanese, its globalisation began with forays into the US market in the 1930s and 40s, and then really got going with lasting force in the 70s and 80s as Japan became an economic powerhouse, an international business hub, and a popular tourist destination. It was around this time that the aforementioned California roll was born, and North American consumers became hooked.
Today, sushi can be found everywhere from Michelin-starred restaurants to motorway service stations and newsagents. But it's the many casual dining options that are now available to consumers that has been the greatest driver. Prior to the Covid-19 pandemic, the global sushi restaurant market alone was projected to grow steadily by $6.4 billion annually through 2022. It's also estimated that there are now more than 50,000 sushi restaurants outside of Japan, and that 90% of these are located in regions with no culinary tradition of preparing raw foods. Further underlining the worldwide affection for the cuisine, Japan's government puts the total number of Japanese restaurants operating on overseas soil at 100,000 and growing.
Looking ahead, with raw fish consumption now a firm fixture in many markets and chefs striving to expand their repertoire and bring new exotic creations to consumers, the sushi age is still on a roll.