Salmon is a very special fish. Highly prized across traditional and new markets alike, the relentless growth in consumer demand for salmon shows no signs of abating. Many would argue that it has reached the point that it now transcends the wider seafood category, with evidence that many people who wouldn't class themselves as "fish eaters" actively making it a part of their diet.
This uptake trend is largely attributed to its healthy profile, which is underpinned by a high protein and omega-3 fatty acid content, as well as being a key source of important vitamins and minerals.
There is, however, a great deal of diversity in the salmon that we consume. That's because salmon is the common name for several species from the salmonid family – a family that also includes trout. In commercial terms though, the salmon trade is dominated by farmed Atlantic and wild Pacific varieties. Collectively, the 2.6 million tonnes of Atlantic salmon produced through aquaculture and the one million tonnes of wild-caught Pacific salmon play a vital role in the global food landscape.
Farmed Atlantics
Thanks to a supply that has grown by more than 400% in the past 25 years, farmed Atlantic salmon is the world's most widely available salmon. It's also one of the top three most popular seafoods in the western world. Consumption of this fish is also rising at a rapid rate in many other regions too, as it successfully competes with other proteins like beef, pork and poultry.
Led by the producing nations of Norway, Chile, Scotland and Canada, the global market for this fish is today valued at several billion euros. Much of its rapid ascendance has stemmed from its ability to capitalise on emerging food trends with relative ease – think sushi and poke, for instance.
Atlantic salmon also exist in the wild but populations are low, with many ongoing efforts aimed at their protection. At the same time, Pacific salmon are also raised in aquaculture systems but on a much smaller scale.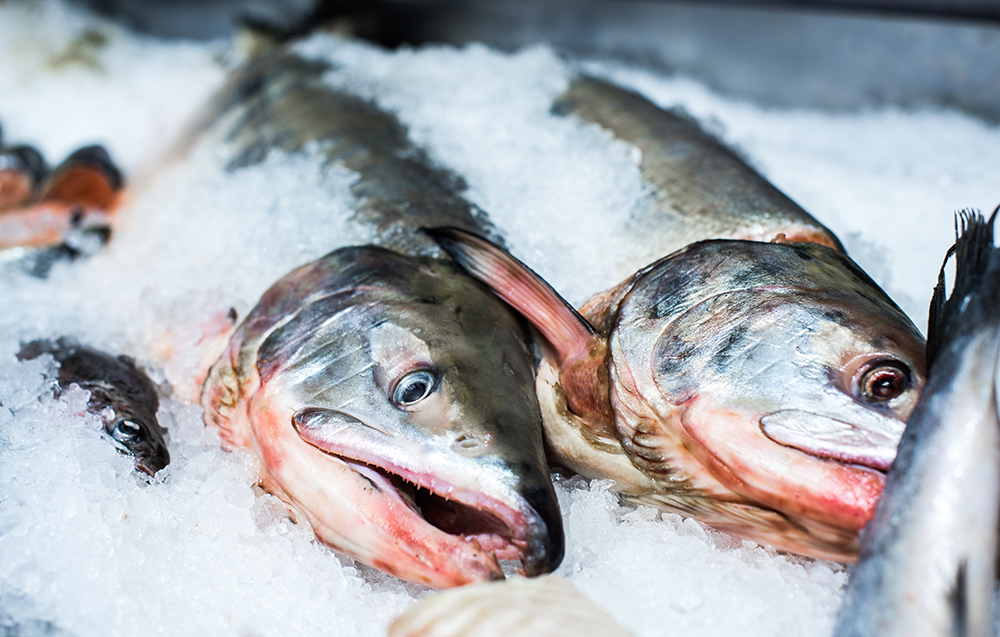 Wild Pacifics
The Pacific Ocean is home to six types of wild salmon, with the five species of king, pink, chum, sockeye and coho being the focus of commercial catchers. The United States accounts for around half of the overall harvest, followed by Russia with approximately 40% of the total. These two salmon fishing giants are followed at some distance by Japan, Canada and South Korea.
Because they are wild fisheries, salmon catch levels can fluctuate considerably from season to season. Of the 261,270 tonnes caught by Americans in 2018 (the most recent year documented by the National Marine Fisheries Service), Alaska accounted for 97%, or 252,600 tonnes, with fishermen in Washington, Oregon and Great Lakes contributing to most of the remainder. These are some of the most iconic and valuable fisheries in the United States. As such, much of this salmon is traditionally sold and consumed domestically, but there are also significant exports to Europe and other markets. In total, US commercial landings of salmon were valued at almost $600 million in 2018.
Responsible production
Alaska's salmon fishery management has long ranked among the best in the world. The widely-recognised strengths of the state include its data transparency, escapement monitoring
coverage and explicit prioritisation of wild stocks in legislation. The entire Alaska salmon fishery is certified to the Marine Stewardship Council (MSC) Fisheries Standard, first receiving the certification in 2000. A number of salmon fisheries in Russia and British Columbia are also certified to the standard.
Meanwhile, the salmon farming industry is at the forefront of sustainable aquaculture production. As well as being amongst the most climate-friendly forms of animal husbandry, the sector has put considerable focus on reducing its environmental impacts in recent years, including the development of progressively greener feeds and also new, non-medicinal management approaches to overcoming biological challenges such as sea lice. A growing number of salmon farming companies have also sought to obtain accreditation to the Aquaculture Stewardship Council (ASC) standard.
Distinctive characteristics
With salmon production meeting many important sustainability criteria, the decision of what fish to eat literally comes down to personal preference, and there are some clear differences, with distinct flavours and textures, as well as a range of colours – from dusty pink to apricot orange.
Of the Pacific varieties, king salmon is the largest, and most full-flavoured species. This fish has a very high fat content and a correspondingly rich flesh that ranges from white to a deep red colour. Coho have a similar flavour but more delicate texture, as well as a silvery appearance. Then there's sockeye, which are also known as "reds" both for the fish's dark flesh colour and because they turn from bright silver to deep red as they move upstream to spawn. Sockeye have a deep rich flavour. As its name suggests, pink salmon have very light coloured and flavoured flesh and a low fat content. These smaller-sized fish are often canned, but are also sold fresh, frozen, and smoked. They are sometimes called humpback salmon or "humpies" because of the distinctive hump that they develop on their back when they spawn. Last but not least, chum have pale to medium-coloured flesh and a lower fat content than other salmon. Chum are less oily salmon, and are usually canned or sold frozen.
The flavour of Atlantic salmon, meanwhile, is milder than that of the wild salmon species. The meat tends to be moderately firm and oily, though not as fatty as king salmon. The flesh colour varies depending on the amount of pigment in the feed, but generally its meat is a rich orange or pinkish-orange colour.
With such variety across the salmon spectrum, and with versatility to match, it's little surprise that this fish has achieved such universal popularity.